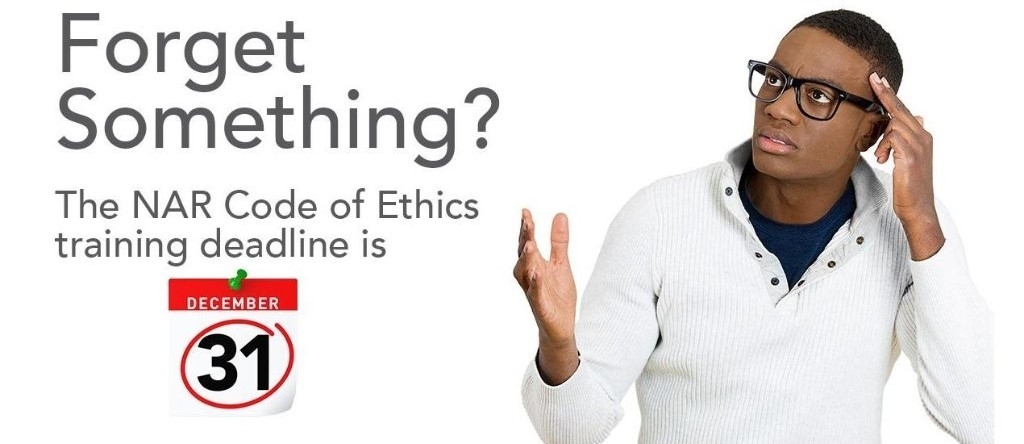 What is the new policy?
The National Association of REALTORS® (NAR) is now requiring that all members take it's Code of Ethics course every two years. This means that you must complete the training at some point between January 1, 2019 and December 31, 2020. If you are a Designated Honorary Member of SCCAOR, you are fully exempted from completing the Mandatory Code of Ethics.
Fortunately, Code of Ethics training is also included in your CalBRE license renewal requirements.
If your license expires between January 1, 2019 and December 31, 2020, your Code of Ethics requirement for this cycle will be completed in your licence renewel. 
If your license expires between January 1, 2021 – December 31, 2022, you need to complete the Code of Ethics training in this current cycle. 
---
How often do I need to do the Code of Ethics training?
Below are the cycle dates for the Code of Ethics Training Requirement. Training must be completed anytime during these established cycles.
Current Cycle 6
January 1, 2019 to December 31, 2020
Future Cycles
Cycle 7 – January 1, 2021 to December 31, 2022
Cycle 8 – January 1, 2023 to December 31, 2024
Failure to complete training during any cycle will lead to suspension of membership for the January and February immediately following the cycle deadline, with termination of membership starting March 1 after the cycle deadline.
---
What class will fulfill my Code of Ethics requirement?
NAR offers a free online Code of Ethics course that fulfills the requirement. You can take this class on NAR's Learning Library website.
Having trouble registering on the Learning Library website? Use our step-by-step guide.
Questions?
You can contact the SCCAOR Membership Team at 408-445-8500 or email at membership@sccaor.com or through our online chat.
https://www.sccaor.com/wp-content/uploads/2016/05/sccaor2.png
0
0
Spencer
https://www.sccaor.com/wp-content/uploads/2016/05/sccaor2.png
Spencer
2018-02-11 17:53:53
2019-02-15 16:35:17
New Code of Ethics Training Requirements