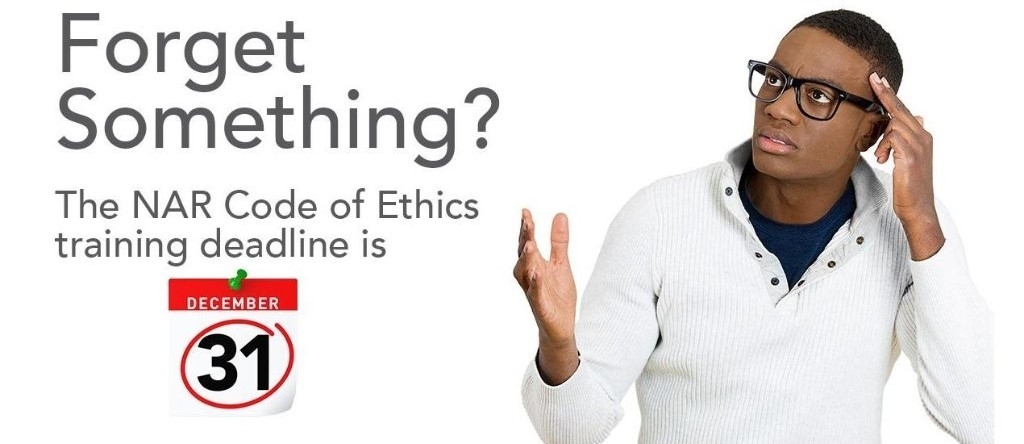 What is the new policy?
The National Association of REALTORS® (NAR) is now requiring that all members take it's Code of Ethics Course every two years. This means that you must complete the training at some point between January 1, 2017 and December 31, 2018.
If you are a Designated Honorary Member of SCCAOR, you are fully exempted from completing the Mandatory Code of Ethics
Fortunately, Code of Ethics training is also included in your CalBRE license renewal requirements.
If your license expires between January 1, 2017 and December 31, 2018, your Code of Ethics requirement for this cycle is completed.
If your license expires between January 1, 2019 – December 31, 2020, you need to complete 2018 Code of Ethics:
---
How often do I need to do the Code of Ethics training?
Below are the cycle dates for the Code of Ethics Training Requirement. Training must be completed anytime during these established cycles.
Current Cycle
January 1, 2017 to December 31, 2018
Future Cycles
January 1, 2019 to December 31, 2020
January 1, 2021 to December 31, 2022
January 1, 2023 to December 31, 2024
Failure to complete training during any cycle will lead to suspension of membership for the January and February immediately following the cycle deadline, with termination of membership starting March 1 after the cycle deadline.
---
How can I check to see if I have completed the Code of Ethics training and met NAR's requirement?
You can go to https://www.nar.realtor and sign in to your account. Then click "My Account" in the top right corner and select "Manage Account". Under the "Other Links" section, click on "View your Education Records (NRDS) ". If you see one of the course numbers listed below, then you have completed your Code of Ethics training and fulfilled this requirement.
Course Number-New Members
BPP COEN 20171
BPP COEN 20181
Course Numbers-Continuing Members
BPP COEC 2017C5
BPP COEC 2018C5
If you do not see either course number listed, then you still need to complete your Code of Ethics training before December 31, 2018.
If you have taken an approved Code of Ethics class but it is not reflected on NAR's website, please email a copy of your completion certificate to membership@sccaor.com
---
What class will fulfill my Code of Ethics requirement?
NAR offers a free online Code of Ethics course that fulfills the requirement. You can take this class at: https://learninglibrary.com/COE/A/HOME
OR
If you would prefer to take an in-person class, SCCAOR will be offering a live class on Monday, October 15, 2018, from 9:30 am – 12:30 pm. This class will cost $20 for Members ($30 for Non-Members). You can learn more and register at: https://www.sccaor.com/calendar/ethics2/
---
Questions?
You can contact the SCCAOR Membership Team at 408-445-8500 or email at membership@sccaor.com or through our online chat.
https://www.sccaor.com/wp-content/uploads/2016/05/sccaor2.png
0
0
Spencer
https://www.sccaor.com/wp-content/uploads/2016/05/sccaor2.png
Spencer
2018-02-11 17:53:53
2018-10-13 07:53:38
New Code of Ethics Training Requirements