Commercial Referral Agent Profile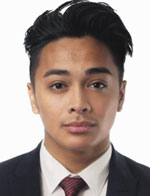 Trust, Integrity, and Transparency are key to making things work in an industry that is often regarded as the "Wild West".
Ron E. Cruz is an Real Estate Investment Advisor who focuses on the maximization real estate investment portfolios, acquisitions and dispositions, and comprehensive analysis. Ron believes that properly allocating one's portfolio to satisfy performance expectations is key to living a happier life. Though his partnership with seasoned industry professionals, he serves as a resource to ensure that a client's goals are being met with their current or desired portfolio. With regulations and niches constantly changing, it is imperative that individuals and cohorts adapt to stay up to date with how their portfolio is performing and capitalize on strategic liquidation or expansionary plays.
Northern California CCIM Institute – Board of Directors Member 2019, 2020
Northern California CCIM Institute – Silicon Valley Vice Chair 2019
Santa Clara County Associations of Realtors – Commercial Council 2019, 2020
KW Commercial, Investment Advisory Team – Investment Sales Associate
Education & Certifications:
CAIA Association – Fundamentals of Alternative Investments
CFA Institute – Investment Foundations Program
BMC – Bloomberg Market Concepts, Bloomberg LP
FMVA – Financial Modeling & Valuation Analyst
ASC – ARGUS Software Certification
REFM, L1, L2, & L3 – Real Estate Financial Modeling Certification
BMC – Bloomberg Market Concepts, Bloomberg LP
MICP – Masters in Commercial Properties, Lipsey School of Real Estate Certification
MIT SA+P – MIT Commercial Real Estate Analysis and Investment Certification
Cornell – Cornell University, Commercial Real Estate Certificate
San Jose State University – Economics
De Anza College – A.A. Economics
Awards:
2019 Networker of the Year – CCIM Institute's Northern California Chapter