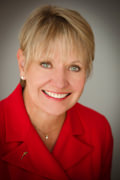 Instructor: Bobbi Decker
COST
$150
(Reduced from $275!)
* Student manual included
This class will be presented via Zoom Meeting. Once registered, we will email you a meeting link and how to access the student manual. You MUST have the ability to be on camera to ensure participation.
The overall goals of the Accredited Buyer's Representative(ABR®) Designation course are to:
Prepare real estate professionals to represent buyer-clients in real estate transactions and provide the quality of service and degree of fidelity to buyers that sellers have customarily enjoyed.
Offer ideas and methods for building a buyer representation business.
Develop a self-customized tool for conducting a buyer counseling session.
Upon completion of the two-day course and successfully passing the exam, you will have achieved ABR® candidate status, a three-year period during which you must fulfill the educational and experiential requirements to earn the Accredited Buyer's Representative (ABR®) Designation awarded by the Real Estate Buyer's Agent Council, Inc.
Learning Objectives
Introduction to Buyer Representation
Analyze the agent-buyer relationship and learn what's important to the buyer
Articulate a value proposition as a buyer's representative
Forming a Buyer Relationship
Gain the confidence to present the case for buyer representation
Connect different relationships (client or customer) and forms of representation to duties and services provided
Buyer Consultations
Conduct an interview and consultation session that leads to a signed buyer representation agreement and wins buyers' loyalty
Help buyers evaluate if they are ready to purchase homes
Help buyers establish their needs, wants, and price range
Shape buyer expectations of the market
Putting Buyer Representation into Action
Search for properties that meet the buyer's needs and wants
Follow federal, state, and local Fair Housing laws when selecting and showing properties
Work with listing agents to arrange property showings
Prepare a buyer for property showings
Show properties
Apply safety procedures when showing property
Offers, Counter Offers, and Negotiations
Assess the strengths and weaknesses of offers and negotiation positions of the buyer and seller
Help the buyer formulate an offer
Use valuation tools—RPR, AVMs, CMAs—to help the buyer evaluate price/value
Present your buyer-client's offer to the seller
Help the buyer formulate and implement a negotiation strategy
Guide buyers through the offer and counter offer process
Manage a multiple-offer situation
From Contract to Close
Guide buyers through the required actions and processes between contract and closing
For more information, visit REBAC.net
Represent the Needs of Homebuyers During the Real Estate Transaction
The Accredited Buyer's Representative (ABR®) designation is the benchmark of excellence in buyer representation. The designation program establishes a foundation of training, skills, and resources to help real estate professionals succeed as a buyer's representative.
The ABR® designation's two-day core course is specifically designed to; help you conduct a buyer counseling session, sign buyer-clients to a written buyer representation agreement, negotiate buyer-clients' offers, and bring the transaction to a successful close.
When you decide to earn your ABR® designation, you gain:
Ongoing specialized information, programs, and updates that help you stay on top of the issues and trends
associated with buyer representation.
Access to members-only benefits such as marketing tools and resources, which provide an additional
competitive edge for ABR® designees.
Designation Requirements
These five (5) requirements must be met to attain and use the ABR® designation:
1. Successful completion of the two-day ABR® Designation Course.
2. Successful completion of one elective course.
3. Submitted documentation verifying five completed transactions in which the ABR® candidate acted as a buyer's representative.
4. Membership in good standing in the Real Estate Buyer's Agent Council (REBAC). Course enrollment includes a free, one-year membership with REBAC. Annual dues are $110 each year thereafter.
5. Maintain active membership status with the National Association of REALTORS® or an NAR cooperating association.
Member Benefits

The ABR® designation provides many membership benefits to help your business and network grow.
Here are just a few:
• www.HomeBuying.realtor – website that hosts a home buying tips blog and explains why it is important
for consumers to work with an ABR® designee.
• Deductr – innovative app that assists you in tracking your income, expenses, time, and mileage throughout the year, making tax-time virtually effortless. Available at a special rate for REBAC members.
• Customizable Marketing Tools – professionally designed postcards, ads, and consumer handouts.
• The Homebuyer's Toolkit – a handy 36-page booklet that walks consumers through the home buying process and encourages them to work with an ABR® designee.
• Consumer One-Sheets – printable handouts on home buying topics. Perfect for a homebuyer counseling session.
• ABR® Print Shop – customize, order, and mail marketing materials conveniently online, for a great price.
• ABR® Referrals & Networking Community – a private Facebook group where ABR® designees can interact and share referrals across the U.S. and around the world.
• Online Referral Database – national directory of ABR® designees where both homebuyers and REALTORS® search to find qualified REALTORS® in a desired location.
• A Homebuyer's Seminar Guide – instructions on how to plan and present your own homebuyer's seminar.
Member Publications

• Today's Buyer's Rep – monthly print newsletter that keeps members informed about timely issues, events, and member benefit updates.
• TBR Hotsheet – weekly e-newsletter with briefs and links to stories pertaining to buyer's representatives.
• RISMedia's Real Estate Magazine – available to members for free online.
Interested in sponsoring this class?
Click here for sponsorship info