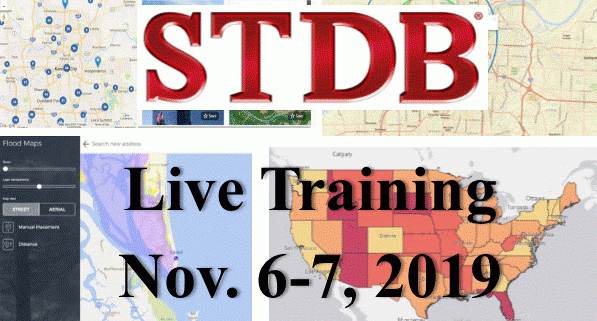 The Site To Do Business (STDB) is Commercial Real Estate's most valuable and comprehensive suite of online tools and apps. A member service of the CCIM Institute, STDB is also available by subscription. These back-to-back courses will add tremendously to your professional skill set.
When & Where
Basic Training
Nov. 6
Sequoyah Country Club
4550 Heafey Rd., Oakland
Advanced Topics
Nov. 7
SCCAOR
1651 N. 1st Street, San Jose
Schedule 
9:30        Registration
10:00      Training Begins
12-1:00    Networking Lunch
4:00        Training Ends
Pricing
CCIM & Realtor Members
Basic Training — $150
Advanced Topics — $150
Both Courses — $250
Non-Members
Basic Training — $175
Advanced Topics — $175
Both Courses — $300
Contact 
Terry Shores
707-795-8095
Basic Training
This course will introduce you to the tools of STDB and provide instruction on how a majority of users utilize the tools.
Learn how to:
create study areas,
create comparison reports,
map a business,
run infographics,
create basic suitability analysis,
use smart mapping,
create prospecting lists,
gather high-quality aerial imagery, and
conduct basic exercises from retail, office, industrial and multifamily CRE disciplines.
The goal of Basic Training is to provide you with a fundamental understanding of the STDB tools and apps.
Advanced Topics
This hybrid STDB course uses a more case-driven approach with the emphasis on using the analysis tools of STDB to solve real world problems. The class will largely cover the same tools as in Basic Training, but with much more emphasis on ArcGIS Online, Story Mapping and Suitability Analysis. If you have not spent a significant amount of time in STDB or other GIS programs, you may find this course to be quick moving and challenging. The goal of this class is to teach you how sophisticated users are using the site to solve problems.
Take Both Courses
If you are new to STDB, or you have not used it often, you should consider taking both courses. The Advanced Topics course assumes that you have a working knowledge of the tools. Practice using the apps the night before the Advanced Topics class so that you won't be frustrated with the complexity of the applications.
About the Instructor
Ben Wilson has worked in a number of different capacities since joining the STDB team in 2008. His expertise is in working with site users to gain a better understanding of the capabilities of STDB and creating relevant case studies and real-life examples of the kinds of problems that can be solved using STDB. He conducts online, in-person, and one-on-one training.
Ben was also a Project Owner of the Express Reports and Business List components of STDB. Over the last 11 years he has developed a working understanding of GIS. as well as the commercial real estate industry. He previously worked as a CRE market analyst for Woodmont Real Estate.