2023 NOMINATING COMMITTEE SELECTIONS: SCCAOR OFFICER & DIRECTOR CANDIDATES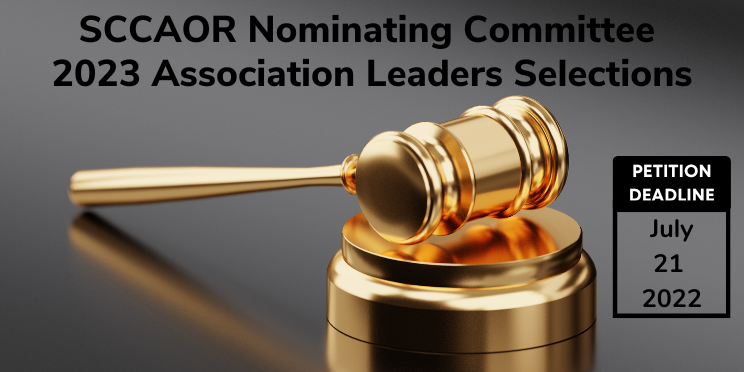 After conducting extensive interviews with potential candidates for the Santa Clara County Association of REALTORS® Board of Directors and Officers, our Nominating Committee has selected the following candidates to serve as the Association Leaders in 2023. 
Petition: Candidates for officers or directors, other than those candidates selected by the Nominating Committee, may be nominated by written petition on a form from SCCAOR. You may pick up the petition form at SCCAOR. The petition must be signed by 150 or more REALTOR® members in good standing and be delivered to the Chief Executive Officer at SCCAOR no later than noon on July 21.  If you have any questions, please contact Alma Moreno or Neil Collins at (408) 445-8500.
Officer Candidates selected by the Nominating Committee:
William Chea, President
Michelle Perry, President-Elect (2023 President-Elect – will automatically become 2024 President)
Kraig Constantino, Vice-President
William Rehbock, Secretary/Treasurer
Director Candidates selected by the Nominating Committee:
Joe Brown
Terese Ferrara
Laura Welch
Jen Beehler
Lisa Faria *
Margo Sparks – SCRA Representative**
The 2022 SCCAOR Nominating Committee was comprised of:
Sandy Jamison, Vice-Chairperson (Past President 2020)
Doug Goss, Vice-Chairperson (Past President 2021)
Gustavo Gonzalez, (Past President 2019)
Ryan Alter, (Current Board of Directors)
Carl San Miguel, (Past President 2000 & 2013)
Steve Hanleigh, (Past President 2002)
John Pinto, (Past President 1990)
Mike Bui (SCCAOR Member)
Shivangi Mishra (SCCAOR Member & DEI Chair)
Nancy Robinson (SCCAOR Member)
Hassan Sabbagh (SCCAOR Member)
Sondra Weber (SCCAOR Member)
Jennifer Rutherford, (SCCAOR Member)
* Per SCCAOR policy, the immediate Past President is given a three-year term.
**Per SCCAOR Bylaws, one director shall be designated by the South County REALTORS® Alliance to serve a one-year term from January 1, 2023 through December 31, 2023.
https://www.sccaor.com/wp-content/uploads/2016/05/sccaor2.png
0
0
sccaor
https://www.sccaor.com/wp-content/uploads/2016/05/sccaor2.png
sccaor
2022-07-01 15:41:09
2022-08-16 10:21:24
2023 NOMINATING COMMITTEE SELECTIONS: SCCAOR OFFICER & DIRECTOR CANDIDATES