2022 Legislative Day AB 2710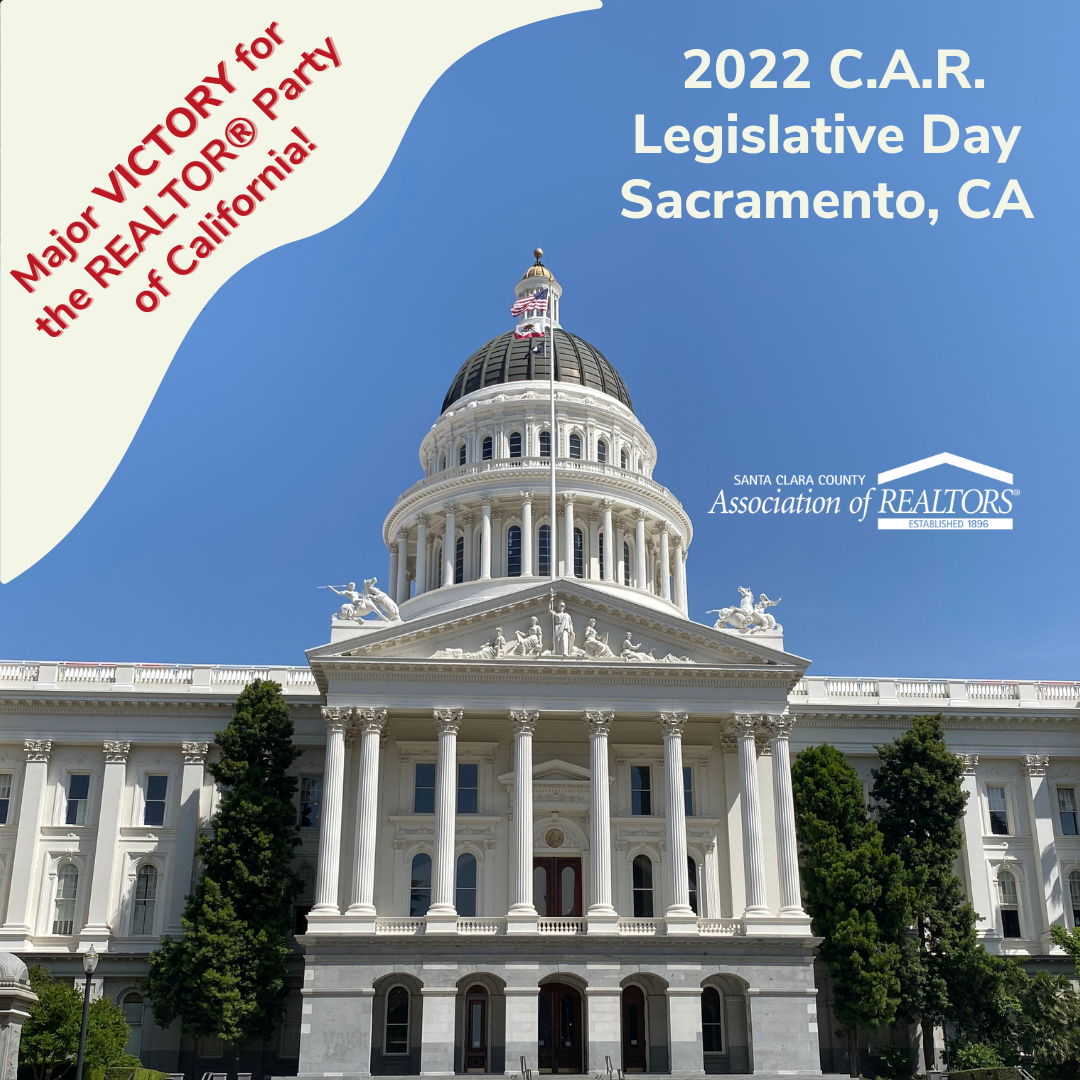 On Wednesday, April 27th, over 2400 REALTORS® gathered for the 2022 California Association of REALTORS® Legislative Day in Sacramento, CA.
This year, AB 2710 was designated a "Red Hot Issue" by C.A.R. and all Legislative Day attendees appealed to their local lawmakers to oppose this legislation that would have stripped homeowners of their property rights.
SCCAOR is proud to announce that after a full day of legislator meetings, the author of AB 2710 decided to pull his bill from Committee, a great success for the REALTOR® Party of California.
If enacted, AB 2710 would prohibit rental property owners from offering their property for sale unless they first offered it to "qualified entities" such as nonprofit organizations and local governments. C.A.R. opposed the bill because it would have harmed small property owners in the following ways:
It would interfere with the ability of property owners with urgent personal circumstances to sell quickly, making them wait several months before they could offer to anyone besides a "qualified entity".
It would reduce homeownership opportunities for working families by prohibiting properties from initially entering the open market.
It would place undue financial hardship on rental property owners as they would be forced to continue paying their mortgage and other property expenses for months because they would be prohibited from selling on the open market while a "qualified entity" considers making an offer.
It would expose small property owners to cumbersome procedures and to possibly costly and time-consuming lawsuits.
Throughout the day, REALTOR® associations hosted their state lawmakers for meetings on this topic to lobby against the measure and share how the bill would harm property rights, the real estate industry, and REALTOR® livelihoods. We at the Santa Clara County Association of  REALTORS®, in collaboration with SAMCAR and SILVAR, hosted Senator Dave Cortese, Senator Josh Becker, Assemblymember Alex Lee, and Assemblymember Evan Low.
SCCAOR extends a big thank you to all REALTORS® for participating in Virtual Legislative Day on March 2nd and the 2022 Legislative Day on April 27th. When we come together in size and strength, we can achieve positive results in support of private property rights.
#StrongerTogether
https://www.sccaor.com/wp-content/uploads/2016/05/sccaor2.png
0
0
Jordan Nunes
https://www.sccaor.com/wp-content/uploads/2016/05/sccaor2.png
Jordan Nunes
2022-04-28 18:26:28
2022-08-16 10:35:05
2022 Legislative Day AB 2710