Join us on Friday, November 15th for a dynamic panel on "Keeping the Lights on in Silicon Valley".
Local, State, and Federal governments are mandating new clean energy policies. How will the grid be able to handle it?
This meeting will also feature updates from C.A.R., NAR, and MLS Listings.
This event is only open to SCCAOR Members and advanced registration is required.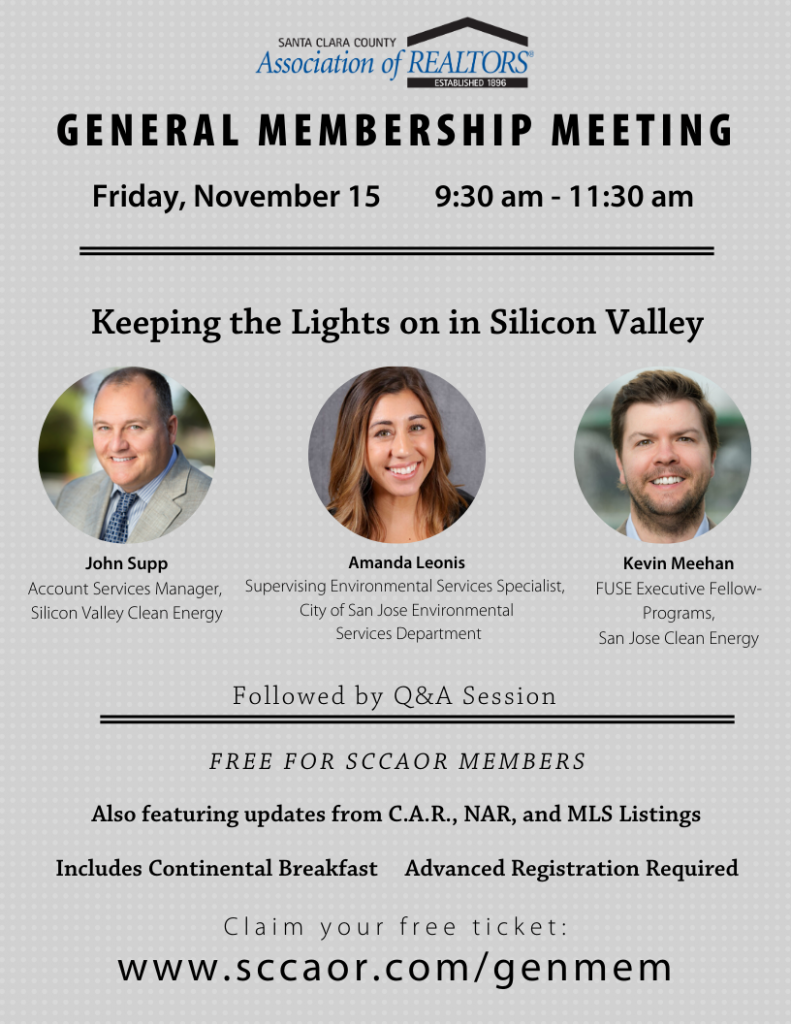 Meet the panelist's:
John Supp, Account Services Manager, Silicon Valley Clean Energy
John supports the commercial and multi-unit dwelling customers. Feel free to contact him with questions, comments or requests for him to meet you at your location.
Prior to joining SVCE, John developed a broad-based knowledge of various renewable energy and energy efficiency measures. Most recently, he worked for local fuel cell manufacturer, Bloom Energy, as the Incentives Operation Program Manager. Before that, he was in Washington DC running the Account Management team and developing programs for the DC Sustainable Energy Utility to support the largest energy users in the Capital with energy efficiency, solar, and workforce development. He was a Program Manager on the California Solar Initiative (CSI) for the Center for Sustainable Energy (CSE) servicing the San Diego Gas and Electric (SDG&E) territory. His solar knowledge came from selling solar directly to residential and commercial customers as well to contractors across the US. He began his energy career more than 15 years ago managing channel sales for a micro-wind turbine manufacturer. He is a Certified Energy Manager (CEM) and received his undergraduate degree from UCLA.
Kevin Meehan, FUSE Executive Fellow- Programs, San Jose Clean Energy
As SJCE's programs lead, Kevin is focused on developing a roadmap for customer programs. He combines 14 years of corporate sector experience with deep expertise in environmental sustainability, energy and program management working for companies such as BlackRock, Apple, and Modine Manufacturing Company. His roles included those in program management, sales, and factory management in the consumer electronics and automotive industries. Kevin's international experience included working for 10 years in China. Kevin holds an MA in International Environmental Policy from the Middlebury Institute of International Studies at Monterey, an MS from NYU Stern School of Business, and a BA from the University of Wisconsin-Madison.
Amanda Leonis, Supervising Environmental Services Specialist, City of San Jose Environmental Services Department
Currently works for in the Sustainability and Compliance Division, for the Silicon Valley Energy Watch (SVEW). SVEW is a partnership between the City of San José, Pacific Gas and Electric and Ecology Action that aims to save energy in Santa Clara County, providing PG&E customers with energy upgrades, finance, and education programs.  She facilitates development of the City's Environmental Sustainability Plan; including: coordinating meetings with several departments and external stakeholders, co-managing a team of consultants and scope of work, conducting extensive community outreach, tracking progress and community input on the plan, as well as strategizing the plan's goals and implementation.
This event will also be streamed live on our Facebook page.