Red Alert: SCCAOR Opposes SB 231 (Hertzberg) Sewer Tax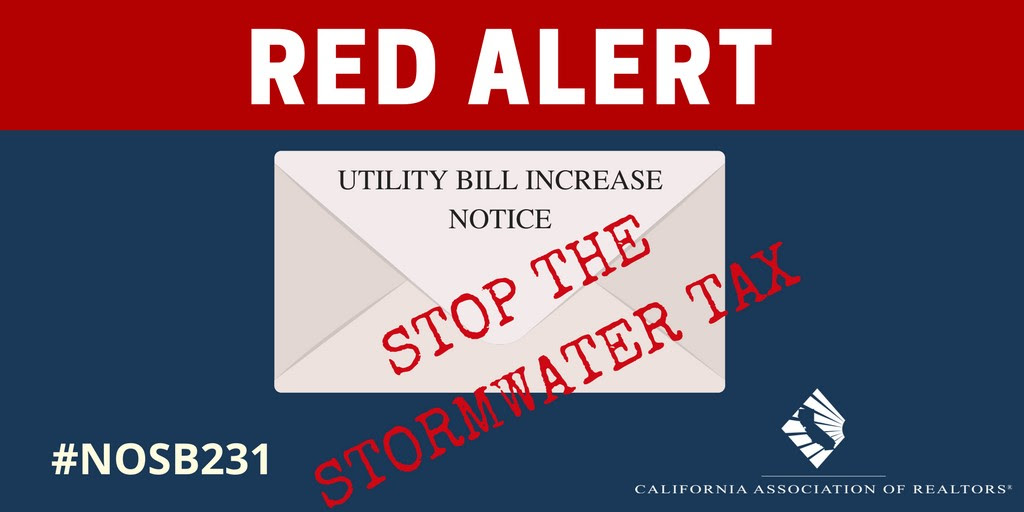 C.A.R. is OPPOSING SB 231 (Hertzberg), a bill that allows local governments to circumvent the State Constitution and Proposition 218 to tax property owners directly for costs related to stormwater infrastructure projects without the legally required voter approval. C.A.R opposes SB 231 because it uses legal "sleight of hand" to allow local governments to impose new taxes without required voter input. The bill will be considered by the ENTIRE Assembly as soon as Monday, June 19th.
Action Items
Call your Assembly Member Today — Urge a NO Vote on SB 231
Call 1-800-798-6593
Enter your NRDS ID (or the Red Alert PIN number in the chart below), followed by the # sign to be connected to your legislator's office.
When staff answers the phone, you can use the following script:
"Hi, this is (insert your name). I'm a constituent and a REALTOR®. Please ask the Assembly Member to Vote No on SB 231. Don't allow local governments to impose taxes by side-stepping voters."
Also, if you use Twitter™, please Tweet the following:
Govt shouldn't side-step voters on stormwater tax. <Insert legislator Twitter handle> #NoSB231 #CALeg
| | | |
| --- | --- | --- |
| Assembly Member | PIN Number | Twitter Handle |
| Kansen Chu | 3505 | @kansenchu |
| Ash Kalra | 2857 | @Ash_Kalra |
| Evan Low | 1152 | @Evan_Low |
| Anna Caballero | 2163 | @AMCab2 |
Background
Current law, as enacted by voters with Proposition 218 – The Right to Vote on Taxes initiative, requires that all new property-related taxes and most fees proposed by a local government or agency must be approved by 2/3 of the voters. A limited exception to this general rule exists for fees assessed for water, garbage, and sewer service.
SB 231 will redefine the word 'sewer' in the law in order to avoid the 2/3 vote requirement and directly tax property-owners for larger stormwater infrastructure projects.
Talking Points
SB 231 is an attempt to impose TAXES without voter approval. Proponents claim the bill only seeks to attach a definition to the term "sewers." In reality, the bill is nothing more than legal "trickery" to get around having to get voter approval for a new tax.
SB 231 is a blatant attempt to circumvent the will of the voters. SB 231 ignores the will and mandate of the voters, by creating an expansive definition of the word 'sewer' that is neither consistent with public policy, the intent of the voters, nor the plain meaning of the word.
Voters SHOULD have the ability to approve or deny paying for larger infrastructure projects. Notwithstanding the merits of a particular project, Proposition 218 gave the decision-making authority for funding to the voters. And the voters should be the ones to decide.
For More Information
Please contact DeAnn Kerr at deannk@car.org or Rian Barrett at rianb@car.org
https://www.sccaor.com/wp-content/uploads/2016/05/sccaor2.png
0
0
Spencer
https://www.sccaor.com/wp-content/uploads/2016/05/sccaor2.png
Spencer
2017-06-16 17:10:54
2022-08-16 12:11:42
Red Alert: SCCAOR Opposes SB 231 (Hertzberg) Sewer Tax