Legislative Day 2022
Wednesday, April 27, 2022
PLEASE CLICK HERE FOR GENERAL REGISTRATION.
(PRIORITY REGISTRATION HAS ENDED.) 
OPEN TO ALL PRIMARY SCCAOR MEMBERS. SPACE IS LIMITED.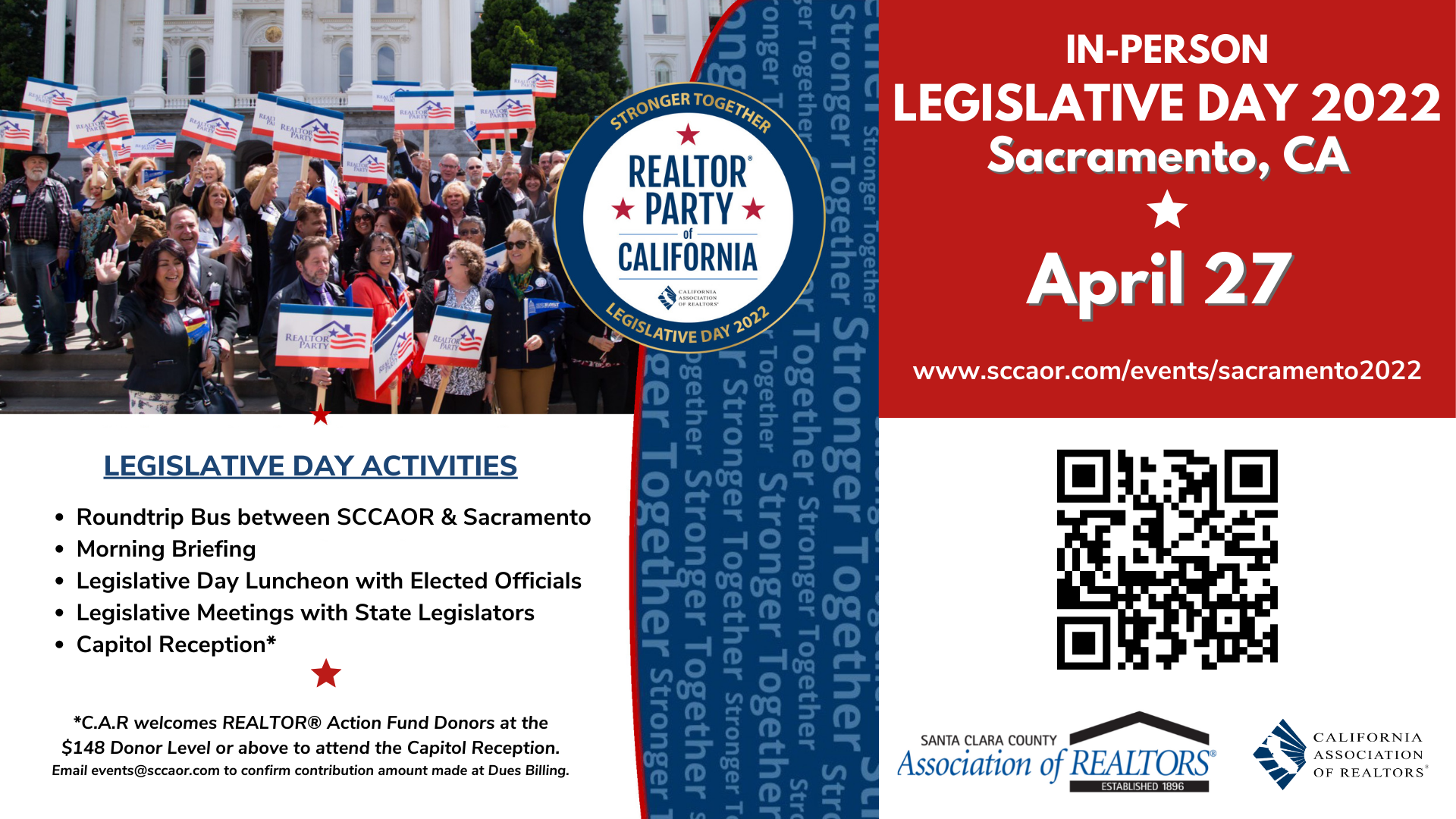 Legislative Day is an annual C.A.R. event when REALTORS® from all over California travel to Sacramento to meet with elected officials and discuss critical legislation that impacts REALTORS®, homeowners, and private property rights.
Legislative Day remains C.A.R.'s pinnacle REALTOR® legislative event.  Attending Legislative Day is not only a great investment in your business, but it also provides you with an opportunity to hear from California's most dynamic political leaders and the leadership of our state association.
Plus, after a rewarding day of meetings, C.A.R welcomes REALTOR® Action Fund Donors at the $148 Donor Level or above to attend the Capitol Reception*!
*Email events@sccaor.com to confirm your RAF Donor Level or contribution amount made at Dues Billing.
Space IS limited.  Registration open to all Primary SCCAOR Members.
Visit www.sccaor.com/events/sacramento2022 to complete your registration by April 13, 2022.
We look forward to seeing you in Sacramento for Legislative Day!
Questions? Email advocacy@sccaor.com
Legislative Day Agenda
APRIL 27, 2022
SCCAOR Chartered Bus Departs for Sacramento:
Where:
SCCAOR, 1651 North First Street, San Jose
Time: 5:30 a.m.
Legislative Day Badge Pick-Up:
Where:
North Lobby, Sacramento Convention Center
1400 J Street, Sacramento
Time: 6:30 a.m. – 9:30 a.m.
Legislative Day "Hot Issues" Morning Briefing:
Where:
Exhibit Hall D, Sacramento Convention Center
Time: 9:00 a.m. – 11:00 a.m.
SCCAOR Luncheon With Elected Officials:
Where:
Sheraton Hotel
Time: 11:30 a.m. – 1:00 p.m.
Legislative Meetings with State Legislators
Where:
TBA
Time: 1:30 p.m. – 4:30 p.m.
Chartered Bus Departs Sacramento Convention Center for SCCAOR:
Where:
Pick-Up Location in Sacramento TBA
Time: 5:00 p.m.
Capitol Reception*:
Where:
Ballroom B & Outside Terrace, Sacramento Convention Center
Time:
6:00 p.m. – 8:00 p.m.
* NOTE:  If you plan to attend the Capitol Reception from 6:00 pm – 8:00 pm, you MUST make alternate transportation arrangements.  There is only one Chartered SCCAOR bus returning to SCCAOR and that bus departs the Sacramento Convention Center at 5:00 pm.
Meetings with Legislators
State Senator Dave Cortese:
TBA
Assemblymember Ash Kalra:
TBA
Assemblymember Alex Lee:
TBA
For questions, please contact the Government Affairs Department at advocacy@sccaor.com.
Legislative Day 101 Webinar
C.A.R. Legislative Day 101 webinar will be held on Tuesday, April 12th at 9:30 am and Wednesday, April 13th at 1:00 pm. Legislative Day attendees must attend ONE of two scheduled webinars.
REGISTER FOR LEGISLATIVE DAY 101 WEBINAR
April 12 at 9:30 am – REGISTER HERE
April 13 at 1:00 pm – REGISTER HERE
All attendees MUST register and complete C.A.R. online COVID Waiver Form by April 13, 2022.
Information needed for COVID Waiver Form:

For AE contact information, enter "neil@sccaor.com"
For Region, enter "Region 19".
Legislative Day attendees MUST attend ONE of two scheduled C.A.R. Legislative Day 101 webinars.

April 12, 2022, at 9:30 am or
April 13, 2022, at 1:00 pm
Legislative Day allows state legislators to hear directly from REALTORS® about how policies impact real estate in our hometowns. And it also demonstrates the strength of the REALTOR® Party.  REALTORS® are committed to spending time advocating on behalf of the real estate industry and homeownership. The more we participate in Legislative Day, the stronger we all are! #StrongerTogether  #AimingHigher