Santa Clara County REALTORS® Foundation Event Raises More Than $18,500 for the Homeless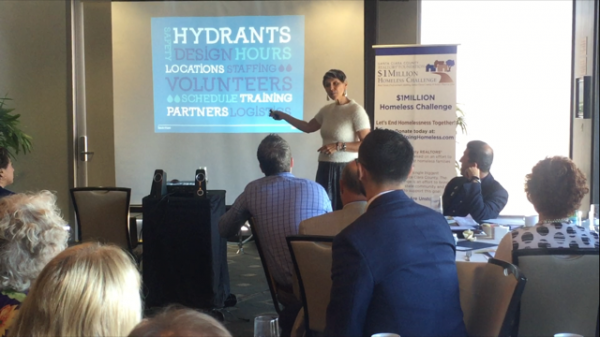 The Santa Clara County REALTORS® Foundation, the charitable arm of the Santa Clara County Association of REALTORS®, raised more than $18,500 for those who are homeless at a breakfast event held at the Capital Club on July 28th. The Foundation's ultimate goal is to raise $1 million for those who are without shelter in Santa Clara County.
"The purpose of the Foundation is to bring REALTORS® together to help our communities with compassion and our $1 Million Homeless Challenge aligns perfectly with our mission and goal," explained Bonnie Wilson of Alain Pinel REALTORS®, who chairs the organization.
Wilson and all the other REALTORS® who attended the event have pledged to give 1 percent of their commissions to the Challenge.
"It was terrific to see so many REALTORS® happily donating a portion of their commissions to help the homeless through the SCCR Foundation," said Rick Smith of Windermere Properties, who will serve as President of SCCAOR in 2017. "Housing is our business. Seeing REALTORS® step up to help those that do not have a place to live was gratifying."
Kevin Cole was the top donor. Others included Dee Ramirez, Bob and Berta Bower, Leslie Zhong, Brad Gill, Nomita and Jagi Shahani, Barbara Lymberis, Doug Goss, Gustavo Gonzalez, Mary Tian and Jackie Walker.
"It was exciting and heartwarming to see so many of our members showing up and giving their time to learn more about eradicating homelessness from our Valley," Lymberis said. "As a REALTOR® community, we should feel an obligation to jump into the huge, coordinated effort being made by our city, county and other organizations in helping to end homelessness right where we live."
Guest speaker Doniece Sandoval, who is the founder and CEO of Lava Mae, said she is working with the City of San Jose and Santa Clara County to bring full-service pop-up centers to local homeless communities. Her company brings bathroom buses to those who are homeless in San Francisco. Sandoval said her goal is "to bring dignity and hospitality to the homeless." The SCCR Foundation hopes to partner with Sandoval and provide volunteers.
Those who would like to contribute to the SCCR Foundation's $1 Million Homeless Challenge may do so at www.realtorshelpinghomeless.com.
Learn more about the Santa Clara County REALTORS® Foundation at www.sccrfoundation.org.
https://www.sccaor.com/wp-content/uploads/2016/05/sccaor2.png
0
0
Spencer
https://www.sccaor.com/wp-content/uploads/2016/05/sccaor2.png
Spencer
2016-08-03 02:59:15
2022-08-16 12:09:44
Santa Clara County REALTORS® Foundation Event Raises More Than $18,500 for the Homeless