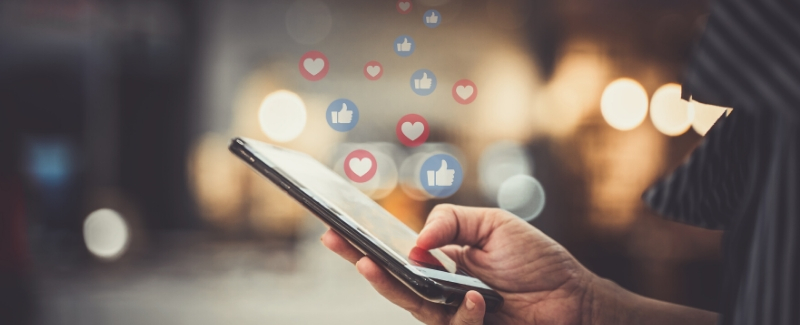 10 Social Media Tips for REALTORS®
While we are spending a lot more time indoors recently, here are a few tips to take advantage of your time at home and enhance your social media game:

Build out your social media strategy.  Make sure you're customizing your message for each social media channel and the specific customers you are targeting.  Remember when you said you don't have time to post on social media?
Reach out to clients.  This is the time to reach out to your clients, access their individual needs and reach out to them via email, phone, or video chat. During these times of isolation, we all crave social interaction.  You have a captive audience, so make sure you provide value.
Stay in contact with your clients.  The most successful agents build and maintain relationships in addition to selling houses.  Every day, make yourself a list of who you are going to call, text, or write a personal note to.  Your words can make a difference in someone's lives during these times of social isolation.
Reassess your tools and systems.  This is a great opportunity to take the time to really understand all the features your CRM has to offer.  Make sure your client profiles are complete with current contact information and special dates like birthdays, anniversaries, etc.  Do you know which clients are essential services?  This could be an opportunity of a lifetime for them if they are a first time home buyer. If you don't have a CRM, now is the time to invest.
Create a QR Code or Text #.  Since you can no longer have a flyer available for the public, consider displaying a QR Code or Text # to give those walking in the neighborhood access to your virtual tour. There are a lot of free QR code generators on the internet, such as this one.
Manage your brand.  Google yourself. Do you like what you see?  Do photos need to be updated? Are all your marketing channels working in harmony?
Update your business plan.  Hopefully, you had one.  The market is the market, someone always succeeds.  Why not make it you?  New strategies will have to be implemented to be successful in the new normal.  You can still end up having a very prosperous year, but you must adapt.
Organize your life.  This starts with your computer.  Get your files organized and clean up your desktop. Use your calendar to time block those projects that you have been putting off. 
Invest in yourself.  There is no better time to take advantage of the professional development offered by SCCAOR, C.A.R., and NAR.  Many of the courses are free during the Shelter in Place order.  You are in control of how you manage your 24 hours.  Spend your time wisely because your competition sure is.
Stay in the zone with real estate podcasts.  When you need a break from the computer screen, put on your headphones, take a walk,  and get inspired by listening to some of the brightest minds in the business. Here are a few good ones to start with:

Housing Matters Podcast  (C.A.R.)


https://www.car.org/marketdata/podcast




The Housing Matters Podcast is your housing hub for market analysis, economic trends, and housing news from the CALIFORNIA ASSOCIATION OF REALTORS® (C.A.R.).

Center for REALTOR® Development Podcast (NAR)
http://www.crdpodcast.com/


NAR's Center for REALTOR® Development podcast focuses on education in the real estate industry and is hosted by Monica Neubauer, an award-winning industry leader, speaker, and instructor based in Nashville, TN. The podcast discusses formal and informal sources of industry knowledge, including NAR education and credential programs.

Gimmie Shelter
https://calmatters.org/articles/category/podcasts/gimme-shelter


Why is it so expensive to live in California? And what can the state do about it? Every other week, Los Angeles Times housing reporter Liam Dillon and CALmatters' data reporter Matt Levin chat about the latest developments in California housing policy and interview a key housing newsmaker.
https://www.sccaor.com/wp-content/uploads/2020/06/Social-Media-Tips-1.jpg
325
800
Spencer
https://www.sccaor.com/wp-content/uploads/2016/05/sccaor2.png
Spencer
2020-06-15 11:28:10
2022-08-16 11:37:59
10 Social Media Tips for REALTORS®