Get to Know Jordan Nunes: SCCAOR's Government Affairs Coordinator
In early March, Jordan Nunes joined the Santa Clara County Association of REALTORS® (SCCAOR) as their new Government Affairs Coordinator. Nunes has been working under our Government Affairs Manager, Tim Beaubien, to help promote the political needs of our members and to help protect the rights of private property owners.
"I'm really excited to be a part of the SCCAOR team," said Nunes. "I've been using my past experience to help create relationships with our members and local community leaders."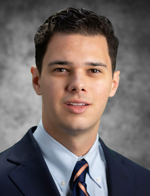 Jordan attended Santa Clara University where he studied Political Science with an emphasis in Law and Social Justice. He then completed his Juris Doctorate at the Santa Clara University School of Law. During his time in law school, he completed the Panetta Institute Fellowship where he was mentored for a semester by Secretary of Defense Leon Panetta.
"My time in law school really helped me learn how to synthesize complex information into digestible bites," he said. "During the last few months, I have done a lot of research on the shelter in place orders and other information from local and state governments. It feels great to be able to help our members by summarizing this important information in our Government Affairs newsletter and on our Transaction Resource Page."
Jordan also has experience on Capitol Hill. He was a Senior Congressional Intern for Congressman Mike Honda, working in both the Capitol Hill and the District Office. He created and managed community outreach projects, managed issues between constituents and federal agencies, and also prepared memoranda for staff on Congressional briefings, committee hearings, and policy issues.
Tim Beaubien, SCCAOR's Government Affairs Manager, said that Jordan has been an excellent addition to the Government Affairs team.
"He has a strong background in Silicon Valley politics through involvement on issues in his hometown of Santa Clara and previous work experience with Bay Area elected officials," said Beaubien. "His background in campaigning and legal expertise has helped boost our SCCAOR advocacy efforts and also helped us continue to fight for REALTOR® Party values."
In his free time, Jordan enjoys swimming and traveling. When he was in high school, he completed a study abroad program in Japan, where he lived with a host family while attending school. 
"Traveling has really opened my eyes to the different cultures and experiences around the world," he said. "I look forward to being able to travel again once we get past the current COVID-19 Crisis. I'd really love to go back to the Caribbean."
https://www.sccaor.com/wp-content/uploads/2016/05/sccaor2.png
0
0
Spencer
https://www.sccaor.com/wp-content/uploads/2016/05/sccaor2.png
Spencer
2020-06-04 14:21:45
2022-08-16 11:37:59
Get to Know Jordan Nunes: SCCAOR's Government Affairs Coordinator