Boomerang Buyers Making a Comeback
By Julie McCoy
About 7.2 million people lost their homes due to a foreclosure or a short sale in the last recession, according to Irvine-based RealtyTrac. The good news is that this year and in the years to come, many of these people are getting back into the housing market again.
More than half a million  "boomerang buyers" re-entered the housing market last year and this year that number is expected to jump to a little more than 1 million, RealtyTrac predicts. "This is kind of a year where they really start coming out of the woodwork," said RealtyTrac Vice President Daren Blomquist.
In the next couple of years, by 2018, the number of boomerang buyers getting back into the housing market is expected to go up to more than 1.3 million.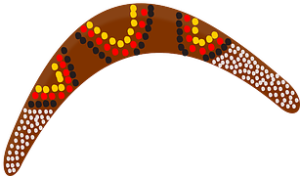 Using foreclosure, affordability, and demographic data,  RealtyTrac predicts nearly 3.5 million Americans will become eligible to buy a home over the next three years.
"Realize you're going to be getting a lot more interest from these folks," Blomquist said. "Don't discount these boomerang buyers and say, 'I don't want to deal with these buyers.' This is going to be a growing part of the market for the next several years."
The term boomerang buyers is a good name for them because they're rebounding and coming back, just like a boomerang does when you throw it.
In some ways, boomerang buyers are similar to first-time buyers in that they don't have a lot of money for down payment. But they also are different from first-time buyers in that they have been home owners before, Blomquist pointed out.
"They are not going into this totally blind," he said. "They have actually learned about home ownership [unfortunately] the hard way. You're not having to educate these folks completely on what home ownership is all about."
Before you go too far down the path of looking for homes with boomerang buyers, make sure their history has been repaired, Blomquist advises. "That may take some time," he said. "Coordinate with your mortgage broker to educate yourself as to what are the guidelines for FHA loans and Fannie/Freddie loans. Talk to the mortgage broker you use and get a template from them as to the time frame for boomerang buyers."
Homeowners who h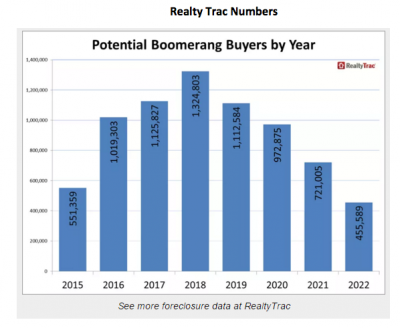 ave gone through a foreclosure have to wait seven years to get it off their credit history and it typically takes three years (sometimes more, sometimes less) before they can get an FHA loan. Now that it's been nine years since the recession started, many homeowners who experienced a foreclosure when it first began have passed the mandatory waiting periods. They have used the time to repair their credit and are now in a position to be able to buy again.
You as a REALTOR® need to become an advocate for boomerang buyers, Blomquist stressed. "The process of re-qualifying can be painful," he said. "They are having to drudge up the bad stuff that happened seven years ago. That's painful to relive that. You should be their advocate in helping them tell the story of why they were the victims, assuming they were. I think a lot of people were. You are the advocate and the buffer between them and the lender as they go through this somewhat painful process of re-qualifying,"
Don Jessup of Silicon Valley Associates worked with several boomerang buyers last year.
"I am sure we could have worked with a lot more of these people," he said. "They have the ability to pay again. A lot of people are still trying hard to re-enter the market."
While Jessup isn't currently working with any boomerang buyers, he said he would be happy to start working with them again.
"I am not personally actively searching them," he said. "It's a good market. The problem is how do you find them. I think you could run ads saying, 'Lost your home in 2007 or 2008? Now is the time to get back in the market.' Offer credit seminars to people who have lost their homes."
It's really important to be sensitive when you're working with boomerang buyers and to not be condescending or judgmental, Jessup emphasized. "Empathy is a good thing," he said. "It has got to be running
through their mind, 'What if I made a bad decision this time?'"
The reward of working with boomerang buyers is you're helping people get their life back, Jessup noted. "There is a sense of accomplishment in getting a piece of their life back that they lost," he explained. "It adds a sense of security in their lives when they get back to being a home owner."
The challenge of working with boomerang buyers is that you have to be more aware of credit issues and pair them with a good lender who understands boomerang buyers and get them through the pre-approval process, Jessup explained.
Younger Baby Boomers and older Millennials are more interested in re-entering the market than older Boomers because they have more time to pay off a new home, he pointed out.
https://www.sccaor.com/wp-content/uploads/2016/05/sccaor2.png
0
0
Spencer
https://www.sccaor.com/wp-content/uploads/2016/05/sccaor2.png
Spencer
2016-07-14 21:47:39
2022-08-16 12:09:44
Boomerang Buyers Making a Comeback