Going the Extra 7,000 Miles for Its Members: Santa Clara County Association of REALTORS® Gets Creative in Helping Educate About Global Real Estate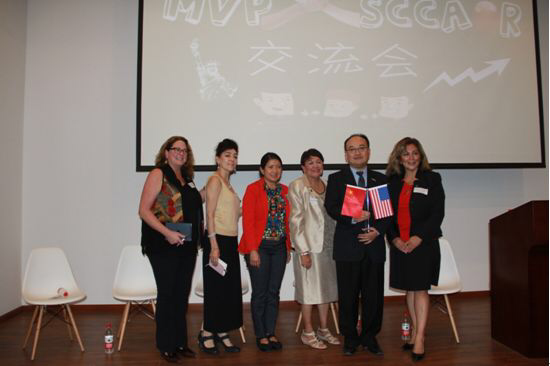 Members of the Santa Clara County Association of REALTORS® had the opportunity to learn first-hand about differences that exist in real estate between the U.S. and China and how to effectively work with Chinese buyers while on an excursion to China at the end of October that included a professional conference with Beijing agents.
"We have a huge percentage of Chinese buyers in the Bay Area," explained SCCAOR President Craig Gorman. "In order to work with them effectively, you need to know about Chinese culture. The best thing is to go there and experience it yourself."
More than 150 top-producing agents attended a one-day conference at Beijing Homelink, the country's largest real estate agency. Some of the many topics discussed included buyer and seller representation, fiduciary duty, ethics, portals and web sites, and the tremendous influence that Asian culture has had on real estate in the U.S., for example with Feng Shui.
"There is no course that can be taught that can replace what one learns from personal experience," said Hilda Ramirez, Director of Professional Development at SCCAOR, who led the delegation to China. "The excursion provided an invaluable look into the everyday lives of the Chinese people at a variety of economic levels. An information exchange with Homelink agents in Beijing is an experience REALTORS® dream of."
Suzana Kubota of Coldwell Banker Previews International said she came back with a better understanding of why schools and education play such an important role in the home buying process for Chinese people and the high standards and expectations the Chinese set.
Anne Hansen, a broker with Realty ONE Group, had the opportunity to meet with young 30-somethings who aspire to be real estate professionals. "They were dying for information," she said. "How do you get listings. How do you get inventory. They want to be trained in sales. I think they're very passionate."
https://www.sccaor.com/wp-content/uploads/2016/05/sccaor2.png
0
0
Spencer
https://www.sccaor.com/wp-content/uploads/2016/05/sccaor2.png
Spencer
2015-11-10 20:33:56
2022-08-16 12:09:43
Going the Extra 7,000 Miles for Its Members: Santa Clara County Association of REALTORS® Gets Creative in Helping Educate About Global Real Estate