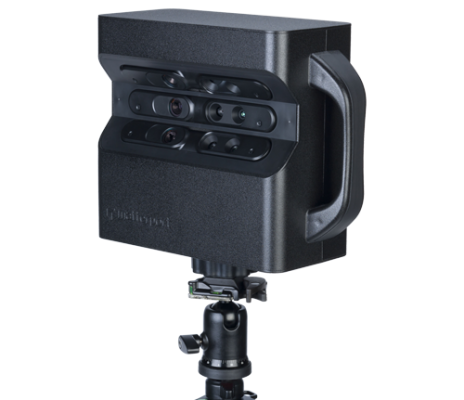 Virtual Reality is Being Used More in Real Estate
It's all about being able to see a home without actually being there in person.
Virtual reality technology allows people to get a tour of a home on their phone, the Internet or through a headset. It's starting to become popular and this trend is only expected to continue in the future.
Goldman Sachs predicts virtual reality – which is making its way into the real estate industry – will be an $80 billion market by 2025. That's the size of today's desktop PC market.
Agents can put a virtual tour on a listing page for their house. It is being used especially with high-end homes.
Virtual reality is a good option for those who are looking at homes that aren't in the area. House-hunters can view a home that is in another state or even overseas.
One of the benefits to house-hunters of seeing a virtual tour is that it can save them time and money. If they don't like what they see in the virtual tour, they don't have to spend their time and gas money or perhaps airfare money to go see the home.
Sunnyvale-based Matterport has had a 3-D tour product for about two years now, according to Matt Bell, one of the company's co-founders.
Matterport has its own camera for clients to use, which an agent can buy or the company for which an agent works can purchase. Agents take the shots themselves, or sometimes they hire freelance photographers to do the work. The camera is easy to use. Anyone can use it. All you have to do is press a button.
"Our customers, using the Matterport camera, have captured more than 200,000 buildings," Bell said. "It's mostly homes, whether apartments or houses. Mainly residential real estate."
It typically takes only half an hour to an hour to capture a whole house in 3-D. Larger homes require only slightly more time. "If it's some mansion, it might be a couple of hours," Bell pointed out.
Matterport provides what it calls a dollhouse view and a floor plan view of homes. In both cases, the consumer is using the mouse to navigate. With the dollhouse view, it's like you're playing with an actual dollhouse. You can see all of the floors in the house. Even with a one-story house, consumers are able to see the perspective of the house. It provides an idea as to how each room is connected to one another.
Overall, using virtual reality technology, consumers have the ability to "walk" through the home.
Matterport has headsets that consumers can use to view a house on Samsung Gear VR.
"It's truly an amazing experience," Bell said. "It gives you like this visceral experience of being there."
The number of homes that have been scanned using Matterport's 3-D model has nearly doubled since last summer. In March, 17,000 homes were scanned, compared to 9,000 in August 2015.
"There has been a lot of growth," Bell pointed out.
Both apartment.com and Redfin are big users of users of Matterport's virtual reality core 3-D product.
https://www.sccaor.com/wp-content/uploads/2016/04/2e1ax_default_entry_camera_01.png
400
464
sccaor
https://www.sccaor.com/wp-content/uploads/2016/05/sccaor2.png
sccaor
2016-04-12 20:42:15
2022-08-16 12:09:43
Virtual Reality is Being Used More in Real Estate