Gas Water Heater and Furnace Ban
On Wednesday, March 15, the Bay Area Air Quality Management District (BAAQMD) Board of Directors will vote to ban natural gas water heaters in each of the Bay Area's nine counties by 2027 and natural gas furnaces by 2029. CONTACT your local representatives to the BAAQMD NOW to voice your opposition!
The Bay Area Counties impacted by this ban are:  Marin, Napa, Solano, Sonoma, San Francisco, San Mateo, Alameda, Contra Costa, and Santa Clara.
This ban will impact homeowners, housing providers, and even tenants.  Not only is it expensive to replace gas appliances with electric versions, but in most cases, homeowner will have to upgrade their electrical service, electrical panel, and interior wiring.
These upgrades could cost a homeowner tens of thousands of dollars to hundreds of thousands of dollars, depending upon the age of the home.
Some housing providers may not be able to afford this work and may have to sell their rental unit which harms tenants.  Furthermore, this proposed ban does not account for our seniors on a fixed income or those households who do not have the resources to pay for costly electrical upgrades.
All local Bay Area REALTOR® Associations understand how critical the environment is in our region's quality of life.
There are better ways to protect the environment without putting homeowners and housing providers, and tenants at risk.  Financial incentives and grant programs for those homeowners wanting to convert to electric furnaces and water heaters is an alterative to an out-right ban on the sale and installation of these gas appliances.
Further information:
Regionally, two Potential Electrification Conversion Cost Studies have been conducted by the San Mateo County Association of REALTORS® and the Santa Clara County Association of REALTORS®. This will give you an idea of the costs that might be associated with conversion to all-electric. *Please note: electrical contractors interviewed for these studies cautioned that the costs they provided were those without a conversion mandate in place – anticipate significantly higher costs if a mandate is passed.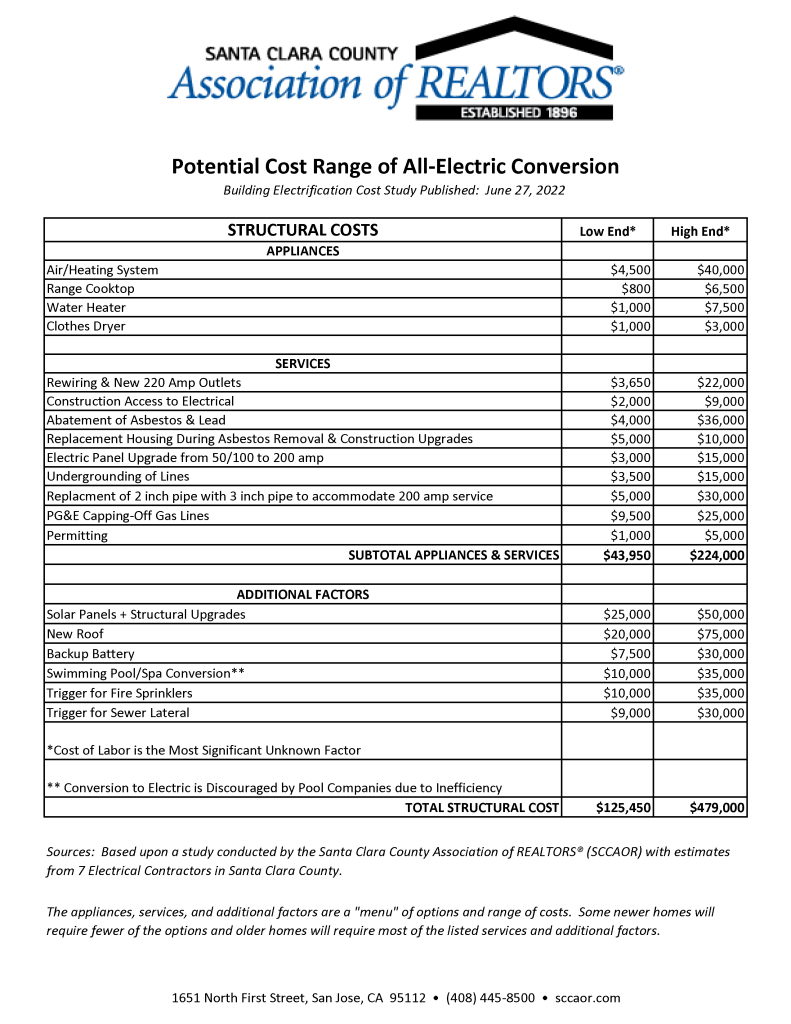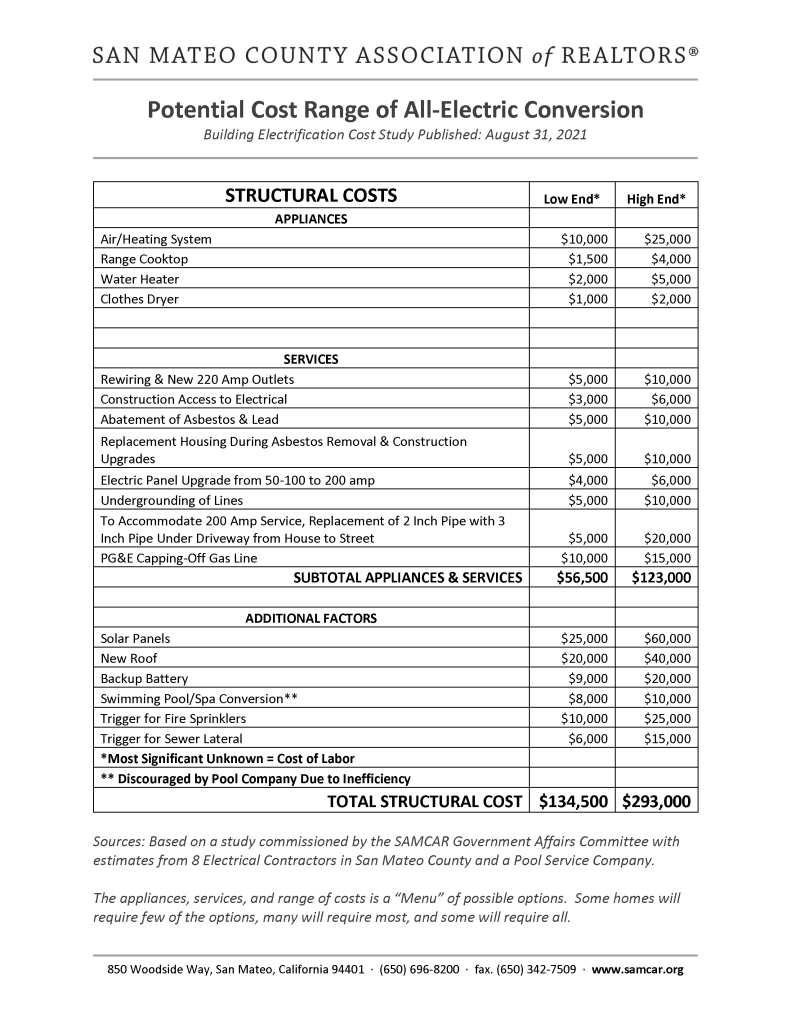 https://www.sccaor.com/wp-content/uploads/2016/05/sccaor2.png
0
0
sccaor
https://www.sccaor.com/wp-content/uploads/2016/05/sccaor2.png
sccaor
2023-03-12 12:13:36
2023-03-12 13:28:19
RED ALERT!