SCCAOR Nominating Committee Selects Officer & Director Candidates to join President Goss in 2021
After conducting extensive in-person interviews with potential candidates for the Santa Clara County Association of REALTORS® Board of Director and Officer positions, our Nominating Committee has made their choices for 2021 President-Elect, Vice President, and Secretary-Treasurer. These candidates will join President  Doug Goss, who will automatically become President after having served as President-Elect in 2020 (This cycle will continue next year as the 2021 President-Elect will automatically become President in 2022).
2021 SCCAOR Officers: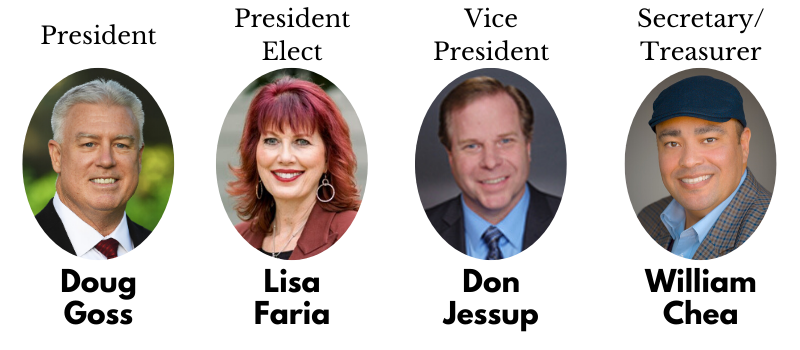 The Nominating Committee also chose the following 2021 Director Candidates:
Gene Hunt
Jenny Zhao
Rick Smith
Ryan Alter
Sandy Jamison*
DeVonna Meyer (2021 SCRA Representative**)

* Per SCCAOR policy, the immediate Past President is given a three-year term.

**Per SCCAOR Bylaws, one director shall be designated by the South County REALTORS® Alliance to serve a one-year term from January 1, 2021 through December 31, 2021.
---
Petition: Candidates for officers or directors, other than those candidates selected by the Nominating Committee, may be nominated by written petition on a form from SCCAOR. You may pick up the petition form at SCCAOR. The petition must be signed by 150 or more REALTOR® members in good standing and be delivered to the Chief Executive Officer at SCCAOR not later than noon on July 31. If you have any questions, please contact Alma Moreno or Neil Collins at (408) 445-8500
---
Special Thanks to the SCCAOR Nominating Committee
Kevin Cole, Chairperson (Past President 2018)
Gustavo Gonzalez, Vice-Chairperson (Past President 2019)
Sandy Jamison (2020 SCCAOR President)
Stephen Theard (SCCAOR Treasurer 2019 & 2020)
Trisha Motter (Past President 2016)
Myron Von Raesfeld (Past President 2014)
Carl San Miguel (Past President 2013)
Barbara Lymberis (Past President 2012)
Karl Lee (Past President 2010)
Jim Myrick (Past President 2005)
Steve Hanleigh (Past President 2002)
Terese Ferrara, SCCAOR Member
Anne Hansen, SCCAOR Member
https://www.sccaor.com/wp-content/uploads/2016/05/sccaor2.png
0
0
Spencer
https://www.sccaor.com/wp-content/uploads/2016/05/sccaor2.png
Spencer
2020-07-16 15:02:54
2022-08-16 11:37:59
SCCAOR Nominating Committee Selects Officer & Director Candidates to join President Goss in 2021