Summertime Fun at SCCAOR's BBQ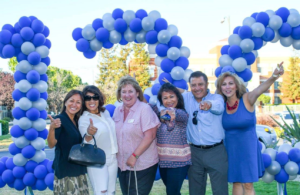 What would summer be without an outdoor BBQ? The two seem to go hand-in-hand. It's certainly a tradition here at SCCAOR, where every year we show how much we appreciate you, our valued members, by providing a BBQ in our beautiful courtyard free of charge.
This year's sold-out event, held last week, drew more than 400 people who were treated to great food and drinks and got to do some networking as well. Everyone got to enjoy their drinks with the commemorative glasses we gave away in honor of SCCAOR's 120th anniversary.
To kick off the event in style, we held a reception inside our newly remodeled office with President Trisha Motter, where people could enjoy some appetizers and see the many exciting changes that we've made, especially to our membership department.
Don Jessup of Silicon Valley Associates, who attended the BBQ with his wife, Jennifer Chaing and their 5-year-old son, said he enjoyed the reception and the event overall.
"The reception for the new office was wonderful," he said. "The remodel is beautiful. The BBQ was one of the best we have ever had. It was a good time for networking and seeing old friends. Thank you for giving back to the members of SCCAOR."
We recognized several of our many outstanding members. Larry Fargher, CEO of Realcom Associates, received the Distinguished Member of the Year Award for his commitment and service to the real estate industry.
Joe Garcia of Camino Real Realty and Richard Matusich of Richard Matsuich & Associates were recognized for their 47 years of service.
A  dozen politicians cleared their busy schedules in  order to attend the BBQ. We'd like to thank them for coming as well:
Campbell Councilmember Jeff Cristina
Campbell Councilmember Paul Resnikoff
Campbell City Council Candidate Rich Waterman
Gilroy Councilmember Peter Leroe-Munoz
Milpitas Councilmember Debbie Giordano
Morgan Hill Councilmember Marilyn Librers
San Jose Councilmember Johnny Khamis
San Jose Councilmember Pierluigi Oliverio
San Jose Council Candidate Dev Davis
Assemblymember Evan Low
Assembly Candidate Madison Nguyen
State Senator Bob Wieckowski
It was a great event and we look forward to seeing you at next year's BBQ!
https://www.sccaor.com/wp-content/uploads/2016/05/sccaor2.png
0
0
Spencer
https://www.sccaor.com/wp-content/uploads/2016/05/sccaor2.png
Spencer
2016-07-12 19:27:43
2022-08-16 12:09:44
Summertime Fun at SCCAOR's BBQ