Mega Producer Panel announced for October 19th SCCAOR Convention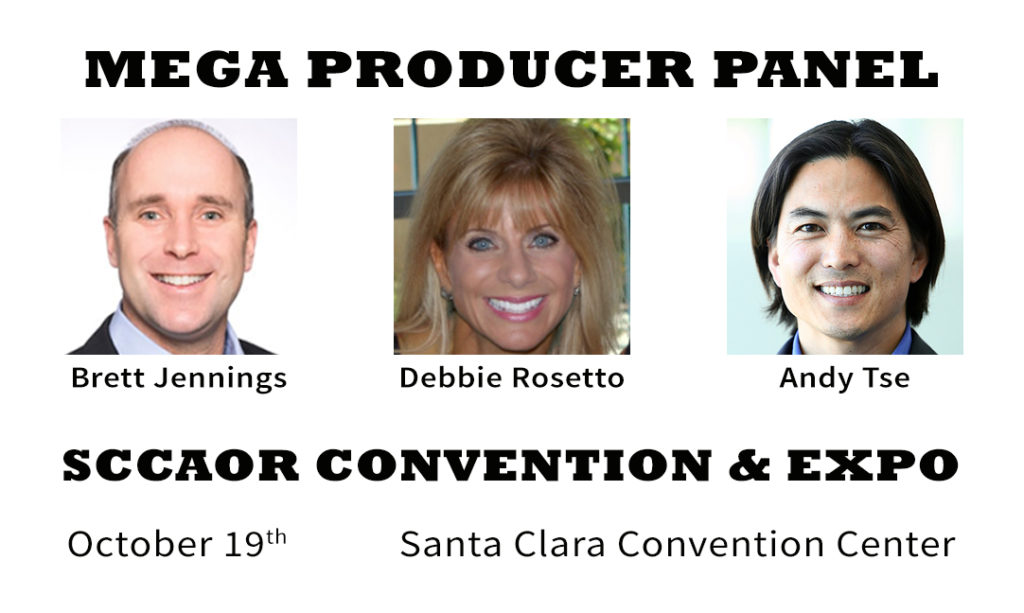 The 27th Annual SCCAOR Convention & EXPO will feature a "Mega Producer Panel" with three of the top producing REALTORS® in Silicon Valley. Brett Jennings, Debbie Rosetto, and Andy Tse will take to the stage and share their knowledge and experience with Convention attendees. This will be the perfect opportunity to learn the methods that they have used to build their real estate sales empires and how they scaled their production to reach extraordinary levels.
The panel discussion will also cover the following topics:
Team building
Lead generation
Marketing
Time management
Technology
Work life balance
Tickets for the Convention are free if you register before September 19th. SCCAOR Members can click here to register. If you are not a SCCAOR Member, you can still register for a free ticket here. Visit our website to learn more about the SCCAOR Convention.
Brett Jennings Bio
After only 6 full years in the business, Brett Jennings leads one of the top producing real estate team in the USA. In 2013, the Wall Street Journal and RIS Media recognized Brett Jennings as being in the top 1,000 real estate agents in the USA. With over one million agents in the country, this prestigious award places Brett in the top 1/10th of the top 1% among his peers.
Skilled in marketing and certified as a negotiation expert, Brett brings the knowledge and expertise necessary to help homeowners consistently sell their homes for top dollar. His website SiliconValleyRealEstateSearch.com ranks on the 1st page of Google for "Silicon Valley Real Estate" and attracts hundreds of thousands of views annually through the use of direct response and search engine marketing as well as social media. This has enabled him to build an active database of over 4,000 buyers that are looking for homes throughout Silicon Valley. This aggressive approach to internet marketing represents just one segment of his 115 point home selling process that has sold his clients homes for up to 18% more than neighborhood averages.
Visit Brett's website for more information.
Debbie Rosetto Bio
Debbie Rossetto has been an active full-time Realtor since 1988. With a prior corporate background in finance and marketing, she assimilated well into the business and developed systems and procedures that advanced her past the $1 billion mark in sales volume by the end of 2013. The consumers, both buyers and sellers, know her for her systematic and meticulous approach to the preparation of the property for sale, complete and thorough documentation, and a roadmap for success that is available to each seller, buyer and even the cooperating agents. Debbie believes in doing everything you can today and never putting anything off until tomorrow.
Debbie's license resides with Legacy Real Estate & Associates, ERA Powered. She is 58 years old and the eldest of seven children. She is married to retired Police Commander, David Rossetto and together they have one son, Matthew age 27. Matthew resides in Wisconsin and is the Director of Government Services for Wisconsin Dental Association. Debbie's goal is to meet her business plan which was written 22 years ago to facilitate her own retirement at age 59.5. So far, she is right on track!
Visit Debbie's website for more information.
Andy Tse Bio
Andy sold 130+ homes and over $150 Million in Bay Area real estate in 2016. These accomplishments placed him at #1 in Saratoga in 2016. Over the last 15 years, through masterful negotiation, deal making and unparalleled customer service, Andy has earned a reputation as one of the most sought after real estate professionals in the Silicon Valley. Andy is committed to developing and maintaining seamless relationships with his clients in order to achieve all of their real estate related goals and dreams. By offering a custom-tailored marketing strategy combined with technology and global outreach, Andy is able to get exceptional results for his clients in any type of market conditions. Offering an array of unmatched professional services, Andy's team is able to exceed the expectations of buyers and sellers alike.
Visit Andy's website for more information.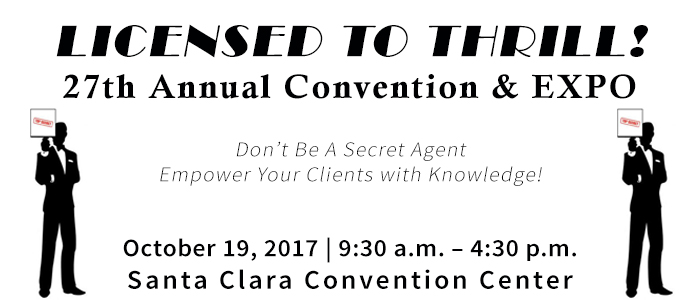 https://www.sccaor.com/wp-content/uploads/2016/05/sccaor2.png
0
0
Spencer
https://www.sccaor.com/wp-content/uploads/2016/05/sccaor2.png
Spencer
2017-08-14 18:28:10
2022-08-16 12:12:06
Mega Producer Panel announced for October 19th SCCAOR Convention